The highlight of the year for many music fans are the large outdoor summer shows and festivals that can be found all around the world and this is often the best chance to see some of your favourite acts and artists. There are niche festivals based around one or two acts or a particular musical genre and there are massive festivals, which try to bring a little bit of everything to the audience. Whether you are only interested in seeing a single act or a whole range of musicians, you should be able to find what you are looking for.
Every type of music is on offer but it will come as no surprise that the sound of most festivals or outdoor gigs is fuelled by the guitar. When it comes to rock n roll, the guitar remains the number one weapon of choice and these big shows may be the best chance for you to see your guitar heroes in action. The following are some of the biggest guitar acts that are making sure this summer is one that will live long in the memory of guitar fans for years to come.
Bruce Springsteen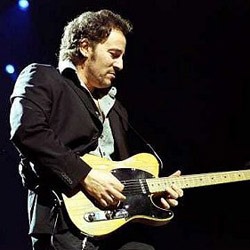 The Boss is showing no signs of slowing down and can be found promoting his latest album all around the world this year. Springsteen is known for putting on a spectacular live show that can go on for a number of hours and he rarely disappoints in the live arena. Whether you are a long-term fan seeing The Boss in action for the umpteenth time or you are catching him live for the first time, you are sure to be in for a treat.
The live set-up of a Springsteen show relies on many instruments with his famous backing band stepping to the fore at many points throughout the gig. For many though, it is the sound of The Boss on guitar that remains the most important element of his sound. It is no surprise that Bruce Springsteen will play a lot of guitars throughout his set but nothing seems to fit Bruce like the Fender '50s Esquire. It had found its place on a number of album and single covers with The Boss but it is the sound it conjures up in the studio and on the road that ensures this guitar has a place in the heart of so many Bruce Springsteen fans.
Fender '50s Esquire:
[asa]B000GAP09K[/asa]
The Stone Roses
A Stone Roses reunion was always what the world was waiting for but for so long, it seemed as though it was never going to happen. Guitarist John Squire appeared to be one of the biggest stumbling blocks in the reunion taking place but in the latter part of 2011, he joined the rest of the group in deciding it was time to get back together. A string of massive shows, including headline festival performances, in the summer of 2012 has brought The Stones Roses back to the limelight and possibly to the attention of a lot of new fans as well.
Every musician in the group is immensely talented but for many, the elegance and style of Squire is one of the most important things about the group. Even at the massive Heaton Park shows in Manchester, Squire showed he had lost none of his cool or swagger as he unleashed riff after riff onto the crowd. Funk, R n B and even a touch of Led Zeppelin heaviness found their way into the set as John Squire showed what music had been missing since he decided to focus on his artwork. Squire has been using a number of different guitars during the show but Gibson Les Paul's and Fender Stratocasters feature prominently.
Fender Standard Stratocaster:
[asa]B001L8NGTC[/asa]
Noel Gallagher's High Flying Birds
Even though brother Liam stole a march on Noel Gallagher by getting the first post-Oasis band on the road, there was always a heavier weight of expectation around the elder sibling. After all, Noel was the chief songwriter for Oasis and was responsible for all of the band's greatest hits, so all eyes were on Noel Gallagher, who by his own admission had been slightly treading water creatively in the final years of the Manchester group. Going out on his own has managed to revitalise the song-writer and the Noel Gallagher's High Flying Birds album and live shows have been rapturously received by critics and fans alike.
Having played to over 100,000 people at numerous points in his career, the live arena was never going to be too frightening for Noel although having his own name up in lights would bring some additional pressure. Unsurprisingly, he has taken to his solo career with a nonchalance and casual grace that has left many people wondering why there would have been any doubts in the first place. Throughout the shows, Noel can be found playing various guitars including the Gibson SG, which featured extensively in the recording of the solo album. You can also expect to see Noel with an acoustic Gibson J-200 throughout the set when he wants to slow things down a little.
Gibson SG Standard:
[asa]B00AAXO670[/asa]
The Black Keys
There may only be two members in The Black Keys but they show that it is quality as opposed to quantity that matters when it comes to making music. Dan Auerbach is the lead vocalist and guitarist, which when you consider only leaves Pat Carney on drums, means that most of the focus on the band's sound will fall on Auerbach. Not that it seems to phase him though and The Black Keys have gone from strength to strength in recent years with their blues influenced rock n roll. It is only natural that the group would find themselves compared to The White Stripes due to the 2-piece nature of the band but they have managed to come out of that shadow and are now a big draw in their own right. As well as being a major part of many festival line-ups around the world, the act has also found themselves playing large arenas in their own right.
With Auerbach mainly playing the Harmony H78 or the '64 Guild Thunderbird, it can be difficult for fans to find the exact same guitars that the band use extensively while on stage but there are plenty of guitar options like the Danelectro '56 for fans who want to get that Black Keys sound for themselves!
Danelectro 1956:
[asa]B004D1RFXC[/asa]
Pearl Jam
When it comes to longevity and giving their fans what they want, it is hard to find a band with a better reputation than Pearl Jam. The group found massive world-wide fame in the early 1990s as the grunge sound took over the world but while so many of their peers faded away, Pearl Jam have managed to continue making music and perform huge shows around the world to this day.
A large part of any long-running musical success story lies in the live arena and as you would expect, Pearl Jam do not let anyone down on this matter. Mike McCready is the lead guitarist and with many shows going well beyond two hours, you would be right to think that there is a whole bank of guitars at McCready's disposal. Flying V's and Gretch guitars can be found from time to time but it is the more common Les Paul or Fender Stratocaster that provides most of the sound at a Pearl Jam gig. Frontman Eddie Vedder can also be found on stage with a guitar and the Fender Telecaster is an important part of his set-up although he can also be found with a Martin "0-18" acoustic.
Fender Standard Stratocaster:
[asa]B001L8NGTC[/asa]