Are you amped already? Well, you should be because this article is about amplifiers and what wonders they can do to your acoustic guitar.
Believe it or not, acoustic guitars love them some amping too. If done right, it can produce great results and bring your playing and performance to the next level.
The great thing is that the current choice on the market is overwhelming – you can get a great amp for any budget, from $100 to $1,000. The not so great thing is that «how do I know which amps are good in their price tier and which are not?». That's what we're here for.
The 5 Best Acoustic Guitar Amplifiers:
This little guide will guide (oops, that was intended) you through the bad and leave you with the good.
This fella is arguably the most balanced choice for your acoustic guitar amplifier. It's powerful enough to make your neighbors your listeners but not enough to make them call the police.
It includes an 8-inch dual-cone Bugera speaker that is capable of very clear sound reproduction. If you want to spice up your playing by adding a bit of effects to it, here you will plenty of them: reverb, modulation, delay, and more. A 5-band graphic equalizer is also there for your convenience.
All these are nice things but here's the real kicker – the ACX450 features two input channels, one of which can be used for vocals, for example. Boom! Next thing you're putting on a one-man show – how cool can that be?
Not everything is so pleasant, though. The EQ could have been a bit more responsive and versatile as the one that's there doesn't do this job quite well. Weighing 30+ pounds, this isn't exactly the easiest thing to carry around. Otherwise, it's well-rounded amp with very few flaws. It's totally worth the price.
VERDICT: 9/10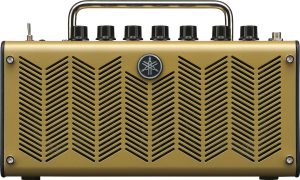 With its instantly recognizable design and modern looks, Yamaha THR series amplifier is a force to consider. Despite the size and weight (around 5 pounds only), it is capable of satisfying most of you musicians out there, preferably off the stage.
Some people have tried using this amp for small gigs but we wouldn't recommend that as it's just not powerful enough for that task. When you're not on the stage, though, it's a great practice amp with a lot of useful features not usually available in other amps. Seriously, what else do you need when you have various mic models, free software for recording your music, and a fantastic tone! All that comes in just under $200.
The fact that it's Japan-made adds a bit of weight to the quality too. No major flaws here, really – as long as you're not planning to gig with Yamaha THR5A, you'll stay completely satisfied.
VERDICT: 8/10
Alright, this is when it gets serious. This Roland AC-60 amp is rather small and compact but don't let it fool you – the guy packs a lot of power (30W to be precise).
It features two 6 and a half inch speakers loud enough for small club gigs and practice room jams. The effects are also here – chorus (which is the main effect in Roland AC-60), delay, and reverb with footswitch control if needed.
The tone is just gorgeous – the brightness and richness of the naturally reverberated guitar sound put through this amp is just unmatchable in this price category. The anti-feedback control feature also comes in quite handy when there's not enough time to mess with the acoustics.
The downside is the heaviness and bulkiness – it's not easy carrying that thing around your house let alone taking it to the gig. And the price – if the $500 tag sits fine with you, you'll get yourself a nice acoustic guitar amp.
VERDICT: 8/10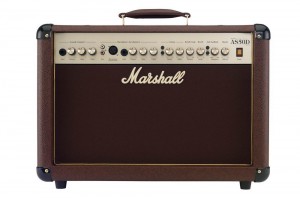 One can say «You can't go wrong with Marshall». Well, it's true… kinda. Of course, the remarkable design and powerful output (50W) can make this amp a first candidate for your home studio or practice spot. However, there are a few things to aware of.
First of all, be prepared that your acoustic guitar will become somewhat electric in terms of punch and crisp this amp delivers. Sure, that gives your performance a nice little edge but not all of us need that. The second thing is the feedback, which at times can be hard to handle with this amp.
The rest, however, is close to perfection. The effects (digital chorus and reverb) sound very compelling, so do two 8-inch speakers. As with many similar amps, it has two channels, one of which can be used to play along with the practice tracks.
All in all, a solid acoustic amplifier for a… well, solid price.
VERDICT: 7/10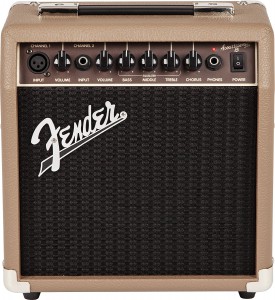 Finally, this little fella! Fender Acoustasonic is a compact amplifier that is capable of delivering 15 watts of power through a single 6-inch speaker.
In spite of the size, it sounds surprisingly well for an amp its size. We wouldn't recommend it for gigs, though, but if we're talking small practice amp for a hundred bucks, what else can you get for that price?
Although those of you who prefer rich, powerful acoustic guitar sound, may not be exactly pleased with this amp, ukulele players and vocalists will get a bang for their buck. Another cool thing about this fun box is the portability – you can literally carry it in your pocket without drawing much public attention. Taking it to work, practice or a trip is really easy.
VERDICT: 7/10
Conclusion
Whenever choosing an amp for your acoustic guitar, watch out for the size and power you want to have. If you need a small practice room/home amp, take the ones that are 15W or below. For a performance amp, your best shot would be Marshall.