No matter what world you live in, you've certainly heard about Yamaha at some point. These guys have been around for more than a century, and they're still delivering premium quality guitars, electronics, motorcycles, and various other products.
They've started out under the name of Nippon Gakki Corporation in 1887, have survived both World Wars, and it's pretty safe to say that they're currently one of the most influential and richest multinational corporations worldwide.
As for the reasons why you should trust this brand, we could name a few. First and most importantly, simply the fact that they endured for so long means something. Apart from that, Yamaha also founded their own Music School in 1954 (not 2004, not 1994, but 1954).
They've even moved on to the field of robotics, which basically means that they're sporting bleeding edge technologies. Although they're perhaps a bit more famous for their keyboards and synthesizers, Yamaha also makes some of the finest guitars across all price point categories.
Features
Yamaha's Pacifica 112V packs a fine set of features. It sports a body made of Agathis, a maple neck, a rosewood fretboard, three pickups, a fixed tremolo bridge, and a set of chromed hardware. Though there aren't that many features onboard, it's surprising that a budget guitar can feel so 'rich' in a sense.
Agathis body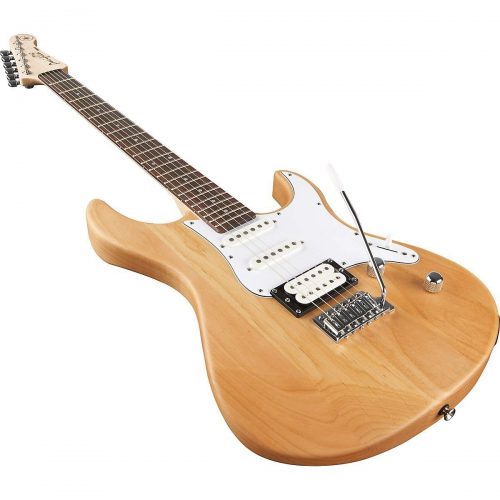 In terms of sound, Agathis resembles Alder and Basswood the most. It offers a tone that offers a decent compromise between warmth and brightness. One of its main characteristics is that it provides great mids and highs.
The only bad thing about Agathis is that it doesn't resound well with bass at all. The sounds at the lowest frequencies will easily get eaten by the other frequencies, but since this is a budget guitar, that shouldn't either surprise or worry you too much.
Maple neck
Maple is among the brightest tonewoods out there and it's commonly used for both fingerboards and necks a guitar. It doesn't weigh much but it's also far from being 'light' per se. Some of the best things maple offers as a neck tonewood is a remarkable sustain an extra punch in combination with Agathis and Rosewood.
Rosewood fretboard
The vast majority of guitars come with a rosewood fingerboard, and apparently, Yamaha Pacifica 11V is not an exception. In comparison to Maple, it's immensely warm tone wise. It's the one tonewood that's responsible for a guitar's durability since it's strong as a brick house, but in terms of playability, it's quite average.
Aesthetics
Pacifica 112V looks quite great, even despite the fact that it was designed in a rather basic way. There's nothing too special about its outlook, but it's great that it comes in several color variations, including violin sunburst, transculent black, caramel brown, vintage white, sonic blue, root beer, amber burst, caramel sunburst, silver, metallic blue, black, tobacco sunburst, metallic red, natural stain, candy apple, solid black, and more.
Playability
Yamaha's Pacifica 112V has a rather high playability level. It comes with a pre-set low action (which you can adjust, of course) which makes it great for beginners. However, this is also the reason why professional guitarists don't like it too much, as it doesn't do much for the sound and intonation in turn.
Electronics
The electronic components of Yamaha's Pacifica 112V are decent at best. There are 3 pickups that provide a decent amount of versatility, making it a great guitar for practicing and perhaps smaller gigs. Recording and regular gigging shouldn't be considered with it, as it lacks the power and definition of somewhat more expensive guitars.
Versatile pickups
There are three pickups onboard, two of which are single coils (neck and mid) and the Alnico humbucker (bridge). Basically, the single coil pickups offer a stable dose of muddiness to the tone whereas the humbucker on the bridge gives you a bit of extra versatility, mainly due to its split-coil function.
Due to this specific kind of pickup system, Yamaha Pacifica 112V is basically a perfect guitar for a rock guitarist, but it's pretty safe to say that you could play virtually any music genre on it.
5-way Switch
Basically, three of the five switches are used for the selection of pickups while the other two are for volume and the tone selection. There's not much to it apart from that it's pretty handy and easy to use.
Intonation
As far as Pacifica 112V's intonation is concerned, it's pretty great if you treat it nicely. The tuning pegs hold the tune for a decent amount of time, although the tremolo bridge can have a serious effect on it if you use it too often.
Tremolo bridge
The tremolo bridge is not something you'll often see on a budget level guitar, and there's a perfectly good reason for it. Although in theory, this type of bridge gives plenty of opportunities to execute tremolo exclusive techniques (dive bombs, for example), a bad tremolo is pretty much worse than no tremolo at all.
In essence, it's great that Yamaha Pacifica 112V has one, but we'd like to point out that this particular tremolo bridge lacks the durability (and quality, for that matter) required for the intonation to remain intact. If you intend to use it a lot, be prepared to re-tune your guitar quite often.
Chromed machine pegs
The tuning heads on Yamaha Pacifica 112V are pretty average – die-cast, chromed tuning heads are basically a standard, and the only thing worth mentioning here is that they're very reliable and easy to use as far as budget guitars go.
Price & Value
One of the best things about Yamaha's Pacifica 112V is its price. Namely, it's incredibly reliable and it belongs to the medium bracket of the 'affordable' price point category.
In terms of 'performance for the buck', this guitar is an all-rounder. It gives you a piece of everything, but that also means that it doesn't really excel in any field of performance. As for the 'value for the money', Pacifica 112V is certainly worth the cash – it's cheap, sounds great, holds the tune, and it's decently durable for a budget guitar.
Pros
Versatile pickups
Affordable
Numerous colour options
High playability rating
Decently good sound for the buck
Cons
Good for beginners, not so much for intermediate level players and professionals
The Tremolo on the bridge is fixed and quite flimsy
Similar Yamaha Guitars
Yamaha's 'Pacifica' series is rather broad and versatile, in terms of both affordability and performance wise. There are guitars that were tailor-made for beginner players, but also models that were intended for professional musicians. If you've liked Yamaha Pacifica 112V, you might want to take a look at the remainder of the generation. Many people categorize it among the best beginner guitars.
Pac 100 series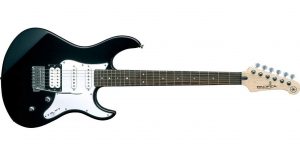 Essentially, the Pac 100 series is where Yamaha Pacifica 112V belongs. In this series, you'll find the 120H, 112VMX, 112VM, 112J, and other models, all of which are exceptionally affordable and, obviously, meant for beginners.
In case you're looking for a budget guitar and find Yamaha Pacifica 112V as 'expensive' even still, the Pacifica 012 model costs a few bucks less – it's still a Yamaha guitar, and even though the specs are kind of lower, it does the job pretty well.
Pac 200 series

The Pac 200 is the first 'successor' of the Pac 100 series and it contains slightly improved versions (as well as standalone guitars).  The funny thing is that this series has only two guitars – PAC212VQM and PAC212VFM. Both of these guitars are some hundred bucks or so more expensive than 112V, mainly due to the fact that they have an improved set of specs.
Pac 300 series
It's quite interesting that Yamaha decided to introduce the 'Pac 300' series because there's only one guitar model in it – the Pac311H. It's a wonderful, beautiful guitar that has suffered some serious upgrades in comparison to Pac 100 guitars. We can see the P-90 pickups, locking tuners, Graph-Tech Tusq nut, and other features that guitars from PAC100 don't have.
Pac 500 series
Just like the previous 'series', the Pac500 hosts PAC510V alone. Essentially, this is a great guitar that has a very similar set of features in comparison to Pac311h (the only difference being the Seymour Duncan pickup).
Pac 600 series
The Pac 600 series houses high-quality boutique level guitars such as PAC611VFM, PAC612VII, and PAC611H. These guitars cost quite a bit and bear very little semblance with the previous series, so consider them if you don't pay too much heed for the cost.
Conclusion
In short, Yamaha's Pacifica 112V is a great guitar for starting out. It sounds pretty awesome for the money, it's very affordable, durable, and playable. There are a couple of things that leave some room for improvement, but overall it's better than most models in the price range. Treat it well, put in some extra effort in terms of maintenance, and we can guarantee you that Pacifica 112V will serve you well. For further reading, check out our list of Best Seagull Guitars.