It's hard to think about rock and roll without associating it with Gibson in one way or another. Namely, this brand is the single most iconic name which has shaped the sound of millions of musicians for over a century. They've set the standards and pushed the limits of guitar making, and it's fairly safe to say that they offer nothing short of perfection when it comes to quality, regardless of the price.
First and foremost, Gibson was founded in 1902 by Orville Gibson in Michigan, USA. They've been operating for some 117 years now and have a plethora of specialized teams and departments, such as Onkyo, Vega, and, of course, Stanton.
A rather peculiar thing happened just a year back (2018). Despite being one, if not the most important brands in the industry, Gibson went bankrupt, but luckily they've managed to pull through and get back on their horses under the leadership of their new CEO James Curleigh (who was up until recently leading Levi's).
This shift in the management of sorts is fairly important for people who know, or better said knew what Gibson was all about. As most of their enthusiasts and fans know, Gibson is annually making an appearance at NAMM (one of the biggest music products trade event based in US), and this year they've come with a huge series of brand new guitars (the guitar we'll talk about was also at this event, the Chris Cornell signature ES-335 Tribute)
That's why we're introducing you to the innovative, exquisite, and exceptional in every way – the Memphis ES 335.
Design
In essence, Gibson's ES 335 has the look and the feel of a standard Gibson in its glory days. In terms of aesthetics, both the general outline and the finish are impeccable. Though not the lightest axe around, this guitar was tailor-made for playability and sound.
Double Cutaway Style
The double cutaway, sometimes referred to as the 'double cut' is just one of the numerous cosmetic parts you'll notice on this beautiful guitar. In comparison to single cutaway style, the double cut guitar appears smaller (due to double 'cuts' in the body), although performance wise there are no differences between them.
Semi-Hollow Design
A semi-hollow body guitar combines the benefits of solid and hollow bodied guitars. Whereas the latter offers firmness and sonic structure, hollow-bodied guitars provide more reverberations and plenty of sustain. The semi-hollow ones tend to do a little bit of both.
Interestingly enough, Gibson's ES 335 was among the first semi-hollow guitars ever designed. Although the new 2019 reissue comes supplied with the latest technologies and cutting-edge features, the first ES 335 came to be in 1958.
Laminated Body
Another aesthetic component is the way the body was built. Usually, you'll have two options – a solid body, or a laminate body, both bringing about a different set of benefits and potential drawbacks.
It goes without question that laminated guitars are superior in terms of durability, mainly because solid wood guitars rely too much on the natural resins. That being said, solid guitars pick up humidity like no other, so you'll have to invest way too much effort in 'keeping them alive'. Laminated body guitars are, simply put, a bit more resistant to environmental damage.
Gloss Finish
Plain and simple, Gibson techs are masters of finishing a guitar, even if it's in the most natural colour possible. This time around, the gloss finish adds plenty of sparkle to this already beautiful guitar.
Tonewoods & Main Features
Though it is true that the original ES 335 and the new 2019 reissue have a lot in common, this year's edition is simply superior in this field. Gibson's used only the finest tonewoods in order to make the promise of perfection come true.
Maple Body and Neck
Most guitarists adore maple's nearly infinite brightness. It's basically on the opposite spectrum of mahogany (which is as warm as can be), Maple is commonly used as a body material because it provides it with robustness.
One of the main downfalls of this particular tonewood is that it weighs quite a lot. In actual fact, maple is one of the heaviest tonewoods, but on the upside, it sits rather nicely with virtually any other wood type.
Rosewood Fretboard
Any guitarist worth his (or her) salt will easily tell you that rosewood is among the most common materials used for guitar's fretboard. Its tonal capabilities are often very hard to discern as it offers a compromise between warmness and brightness.
Rosewood is great because it provides plenty of sustain, mainly because the overtones tend to get eaten up and absorbed in the pores. Just like maple, this tonewood is remarkably heavy in terms of weight.
Pickups – Gibson BurstBucker 1 & 2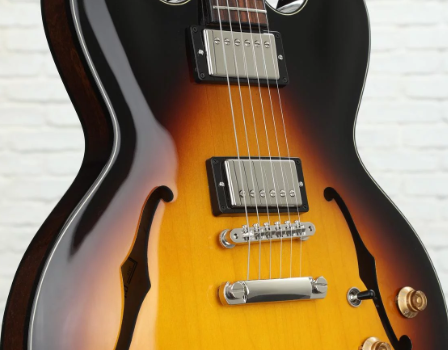 Ever since the bankruptcy in 2018, Gibson intended to get back to the roots, and it's fairly safe to say that BurstBuckers are the most suitable means of achieving just that. The brand defines them as a sort of a 'time machine' since they provide a remarkably vintage like tone with just a speck of modern inside.
Interestingly enough, these humbuckers are fairly versatile and could be used for all types of music playstyles and genres.
Nickel Hardware
Apart from looking nice, the hardware on Gibson's ES 335 is there to make the tuning process easy and stable. This particular setup of features also offers impeccable intonation qualities.
Pros
Built to last
Classy, powerful vintage like tone
Amazing set of features
Superior value for the money
Ultimate versatility and playability
Cons
Quite expensive
Not the best option for guitarists who are just starting out
Fairly heavy
Gibson ES 335 Variations
The Gibson ES 335 comes in several variations – the 335 Dot, traditional, and figured, all of which are fairly different from one another in one way or the other.
ES 335 Dot
The 'Dot' is one of the most beautiful variations of Gibson's ES 335. It's available in 2 different finishes, including Wine Red and Blue Burst. Among the most notable benefits, this particular guitar offers we include superior intonation and a unique level of playability.
What's more, the Dot is, for the lack of better words, among the least costly 'Memphis' guitars. Fretwork is awesome, and the same can be said about the aesthetic components.
ES 335 Traditional
The ES 335 traditional is what's best described as 'Classy'. Although it looks almost exactly the same as the 'Dot', this guitar has the specs of Gibson's earliest guitars, most importantly – the humbuckers.
If you're looking for unique, vintage like sound, the 'Traditional' ES 335 might be the best option for you. It also comes available in several finishes, including the Antique Faded Cherry, as well as the Antique Ebony.
In plain words, ES 335 Traditional can be described as great sounding, versatile, and most importantly, an immensely durable guitar that was specifically tailored for intermediate level players and guitarists.
Gibson ES 335 Figured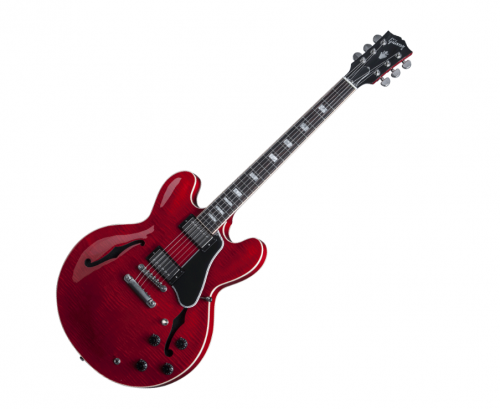 The only real difference between ES 335 Figured and other variations is that this one's made of a slightly different maple component set.
It packs triple-A maple and amber top knobs, and if the 'Traditional' is the classiest Gibson guitar available guitar on the market, the Figured variation is easily among the most versatile ones.
Honourable Mentions
Even though these two guitars were already introduced to the market in 2018, it might be worthwhile to mention them. We're talking about Gibson's E330 and ES 275, both of which are a sort of downgraded (and more affordable) versions of the Memphis ES 335.
ES 330
The ES 330 is an old school guitar that features ceramic capacitors, a titanium saddle, and an ABR 1 bridge. It's strikingly different from ES 335in virtually every aspect, although it holds just about the same value for the money due to its flawless body finish and a huge sound it provides.
ES 275 Custom
There are plenty of similarities between ES 275 and 335, but the differences are more pronounced. For instance, this model has a single cutaway body, it's not as loud, but it also provides the benefits of awesome sustain and tonal versatility.
This particular guitar was called 'Jazz Box' for a while because it's commonly used by this type of guitarists.
Final Words
In short words, you simply can't make a mistake if you trust your money with Gibson as far as guitars are concerned. They've literally 'failed' to put out a bad guitar, and even some of their most unimpressive models are so good that you'll easily forget the small downfalls such as heaviness and expensiveness.
One of the best things about Memphis ES 335 is that it has historic specs, which basically means that old school, vintage like sound is the least you should expect. For all it's worth, you could rig this guitar to some of the worst amps you could find, and it will still sound full and rich. For further reading, you might want to check out our list of Best Beginner Guitars.