Many of us remember the moment when we decided that we are going to play the guitar. Some of us were at the gig; others saw a beautiful guitar at the guitar center or heard a fantastic guitar solo. In my case, I was home watching television (I was around 10 years old at the time and I had some interest in music and guitars, but I never really considered the option to become the guitarist). A kind of a rock concert was on, and I couldn't recognize the performers. Then that crazy "Thunderstruck" intro exploded and blew my mind. I saw Angus Young with his red Gibson SG and I was mesmerized. That is the moment when I made my decision: "I want to play like this man and I want to have this guitar!"
Of course, at that time I didn't know anything about the SG. I was unaware that an entire rock chapter was written with this guitar and that numerous guitarists played exactly this iconic model. As many young people, I was attracted by its rock looks. Later on, I found out that the SG stands for one of the best sounding guitars.
Unfortunately, I also discovered that SG costs a fortune and that it won't be easy to get one. However, today you don't have this kind of problem, as there is an affordable SG version waiting for you – the Epiphone SG Special. The great news is that you can have an excellent guitar for a very modest amount of money (as we are going to see later in the text).
It's important to mention that the Epiphone is not just some kind of an invented trademark that is used to fill the headstock space on cheap Gibson guitars. The Epiphone was founded in 1873, and it had a very interesting history, as you can see here. In 1957, the Gibson Company bought the Epiphone and it started producing the more affordable Gibson guitar models.
Now, it's time to take a look at the Epiphone SG Special.
Features
Body – Mahogany with the gloss top
Neck – Okoume
Fretboard – Rosewood
Magnets – 650R humbucker (neck position), 700T humbucker (bridge position)
Price – around $180
Like in the case of the Gibson SG, the Epiphone SG body is also made of mahogany. These guitars are actually very similar in the terms of construction materials, especially when you have in mind the huge difference in price.
Looks
This Epiphone SG has a classic SG look – cool, rounded body with a double cut-away and that devil horns-like shape.  The way that the guitar looks shouldn't be neglected; moreover, I believe that it is one of the most important factors (if not the crucial one) for any beginner. The point is that beginners don't really have a lot of knowledge about the guitar material, electronic, magnets, or sound, so they tend to focus on the guitar's visual appearance. Having this in mind, the Epiphone SG is exactly what you need, as it is basically indistinguishable from the original Gibson SG.
There are two color designs that you can choose between: the cherry and the black one. I like to refer to these as "the Angus" model and "the Iommi" model. Obviously, this is because Angus Young (AC/DC) and Tommy Iommi (Black Sabbath) are probably the two most famous players of the SG. Both of these guitars look great, so it just depends whether you are more of a rock guy or a metalhead.
Sound / Tones
Having in mind the history of this guitar, you won't be surprised by the fact that it is mostly intended for a heavier sound. Its humbuckers are doing a great job when it comes to handling a large amount of distortion or overdrive. The sound is full, thick, and powerful, so any rock and metal song will sound great on it.
Some people tend to criticize the Epiphone SG when it comes to its clean sound. First of all, I have to emphasize that this guitar costs below $200, so you should consider that when you are evaluating it. Although Epiphone SG wasn't primarily built for clean sound genres (funk, country, reggae…), it actually has a decent clean sound. Its neck pickup is doing a very good job at providing a warm and soft clean tone. With this magnet on, you can play clean chords and the strumming will sound better than you would expect.
On the other hand, the bridge pickup is not as good as the neck in providing clean tone. It is a little too sharp for my taste. However, when you add a distortion to it, this magnet suddenly comes to life. It has a clear and aggressive tone. I tried out different levels of distortion, and it seems to me that the more distortion you add the better the magnet sounds! So, you have a magnet for a clean sound and a magnet for heavy stuff. Not bad at all!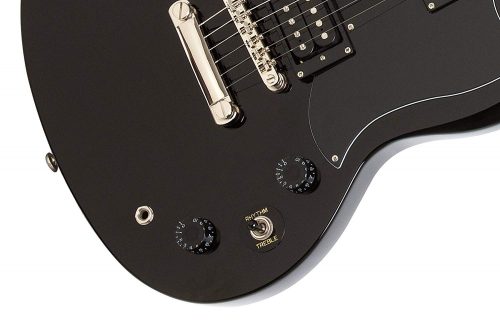 Another very cool improvement on this Epiphone SG that I was surprised by is the killpot. What the killpot does is basically mute your guitar when you press it. This can produce the tremolo or the staccato effect. In the early days, the guitarists would create this effect by switching the magnets – one magnet would be turned all the way up and the other one would be silenced. So, when switching between these magnets, you are actually turning your sound on and off. Here is an example of how it is done:
You can find a lot of examples of this in modern rock music. One of the most recognizable ones is the Tom Morello, the Rage Against The Machine guitarist. Just listen to this solo in the "Bullet In The Head":
Now, I don't want to be misunderstood here. Although the quality of tone depends on the quality of the guitar, it can never sound good without the good amplifier! You can get the best-sounding guitar in the world but if you attach it to a bad amp it will never sound good. This is why I always advise my students to find a good amp. If you haven't found your amplifier yet, you can take a look at this page. Here you will find a list of the best beginner guitar amps. So, keep in mind the following equation: a good tone = a good amp + a good guitar!
Playability / Action / Ease of use
As you know, Epiphone SG has a double cutaway, so you won't have any problems when playing the solo, as all the higher frets are easily reachable.
Many beginners are worried about the guitar neck – is it too thick, is it playable, etc. This is completely understandable because the beginner's hands and fingers are not strong enough and are not used to be stretched. With the Epiphone SG, you don't need to worry as it has a relatively thin neck, so I believe it won't cause you any trouble. However, I should mention that the neck is a bit wide, which is the case with all SGs. If you compare it to Strat, the Epiphone SG does have a little wider neck.
One important note – remember that the wide neck is not necessarily a disadvantage. Students usually tend to discredit any guitar due to its wider neck. The truth is that the wider neck can also be an advantage. If the neck is too narrow it means that the space between the strings will be very small. When this is the case, beginners (and even more experienced guitarists) face one problem – when they want to press a certain string, they may accidentally also press or touch other string as well. On the other hand, when the neck is wider, you probably won't have this kind of issue.
I would say that the action is precisely how it should be – not too high and not too low. It is not hard to play (so you won't have to press the strings too hard) and it also doesn't have that annoying buzz.
If you are a beginner, you'll probably need a support, having in mind that the beginning is always the hardest part. In order to overcome the initial difficulties, you can visit this article and find valuable lessons and pieces of advice.
Build / Reliability
When you are evaluating the guitar, always have in mind its price. You can't expect this Epiphone SG to compete with the Gibson that costs 10 times more. However, if you take into account its generous price, you'll be surprised by its physical attributes.
There are basically no major flaws. There are no sharp edges on the fretboard, the finish is done well, the pots work fine… The tuners are also doing a pretty good job. I played my Epiphone SG for a half an hour and it wasn't out of tune after that. Now, I have to point out that I didn't go crazy on it and played too aggressive; I strum it gently and tried out a couple of soft, melodic solos. It is possible that if you go too harsh on it the guitar might get out of tune a bit. After all, these are low-cost tuners, so don't expect some kind of a miracle of them.
All in all, for this amount of money, you'll get more than you would expect.
Price / Value
Epiphone SG Special is one of the cheapest electric guitars that you can find. However, it doesn't mean that it is a bad guitar; after all, it is the Epiphone, a well known and recognized manufacturer of the low-cost guitars. This means that you can be sure there won't be any big flaws and defects.
If you are a beginner looking for your first electric guitar, the Epiphone SG is the right choice for you. Remember that later on you can always save some money and buy a more expensive guitar. But for the beginning, this one will do.
Other Epiphone SGs
I shouldn't end this article without mentioning that there are also other Epiphone SGs that you might be interested in.
The guitar that is very similar to the Epiphone SG Special is the Epiphone SG Special VE. It has a vintage finish and the ceramic humbuckers. Unfortunately, this one doesn't have a killpot option. However, don't forget that you can still mimic this effect with your toggle switch.
Another interesting Epiphone SG is the Epiphone SG G-400 PRO. It has alnico classic humbuckers and the traditional SG looks. A very cool thing about this model is its push/pull coil splitting option. This means that just by pulling the pot you can split the humbucker and thus, make it to sound like a single coil magnet. These two magnets are different in many ways, so this kind of option is very beneficial in terms of modifying and shaping your tone.
If you are not sure what the difference between these two types of magnets is, you can find out more from this video:
One more thing – you can also find this model in the worn-out finish and also a left-handed model.
I have good news for all of the metalheads among you. There is also a Tony Iommi Signature Epiphone SG. It is completely black with cool crosses inlays on the fretboard – needless to say, it looks exactly like the Tony's SG model! Unlike the previous ones, this SG has 24 frets and ebony fretboard. Probably the most important thing about this guitar is that it has the Tony USA Gibson signature humbuckers. This Epiphone SG doesn't have the copy of these pickups, but the actual original Tony signature pickups. As you would expect, these magnets are very aggressive so any metal song will sound great when played on this Epiphone SG model.
Now, I know that the majority of you are looking for a simple beginner electric guitar, but I have to mention one impressive Epiphone SG model – the Epiphone SG G-1275 Double Neck. Let me inform you straight away that it does costs more than the previous models (around $950) but it is still a decent price for a guitar like this. It has two necks – one has a standard six strings and the other one has twelve. The neck with 12 strings is commonly used for chord strumming as it sounds fuller and richer than the one with 6 strings. Needless to say, this guitar can provide numerous sound possibilities as each neck has a different set of magnets.
In this video below, you can see a very good demonstration of how this Epiphone SG model works and sounds:
The Verdict / Impression
As you could see, this guitar has everything you need – a good sound, beautiful looks, fine hardware, and it is not hard to play. Besides that, it also features a very interesting and inspirational killpot option that you can use to make your sound more interesting.
Of course, probably the most important thing is its price. At the price of around $180, this is surely one of the most affordable electric guitars out there. So, all in all, you cannot go wrong with this one.