Fender Starcaster Acoustic Guitar Review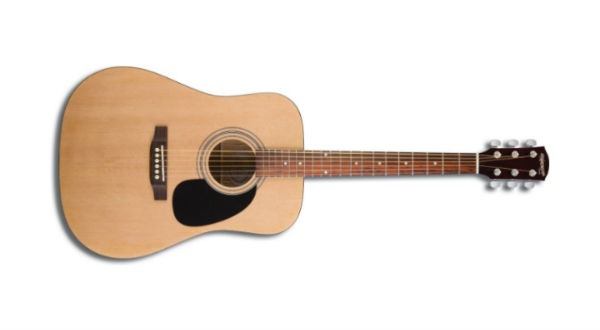 When it comes to guitars, there are few bigger names than Fender but most people would commonly associate the brand with electric guitars. The company produces a fine range of acoustic guitars as well though with Tim Armstrong being one of the most famous guitarists who plays a Fender acoustic. The company is clearly able to produce top of the line guitars but they are also noted for having a fine line in acoustic guitars that are aimed at the beginner to intermediary market.
If you are looking for a basic acoustic guitar that will let you hone your skills, have some fun or even act as a great back-up guitar, the Fender Starcaster is one of the most popular choices around. You don't have to look too far to find acoustic guitars but if you are looking for one from a name you can trust, this may be a good place to start.
Features
The 20 fret Fender Starcaster comes with a gloss natural finish and the following features:
Laminated spruce top
Laminated Agathis back and sides
Ply White Pickguard
It has a fairly traditional look and feel for an acoustic guitar and if you are determined to have an introductory guitar that looks good, you won't go too wrong with this guitar. The craftsmanship may not be the first thing you think of when looking for a good beginner's guitar but there is no doubt that the look of the guitar will have an impact on how the budding musician feels about the instrument. The Fender Starcaster goes a long way to helping musicians to live out their dreams of following their guitar idols!
Sound / Tones
When trying to evaluate the tone on a beginner or budget guitar, there can be a tendency to make allowances for the cost. It wouldn't be fair to compare the Fender Starcaster tone or sound quality to that of one of the top of the line Fender guitars. However, there is an agreement that the tone from the Fender Starcaster is a good one, providing a clear sound which is helpful to beginners. A lot will depend on the style of pick and how competent the player is but as far as beginner guitars go, this is one that manages to go a step beyond the dull or fuzzy sounds that many elder guitarists can remember from their initial forays into playing.
If you are expecting that traditional Fender tone, you are likely to be disappointed with what the Fender Starcaster has to offer but everyone else will appreciate the clearness of the sound provided by the instrument.
Playability / Action / Ease of Use:
A common complaint you will always get with basic guitars is that people will encourage you to change the strings as soon as possible for higher quality strings. It is easy to see why this is a common opinion but it overlooks the importance of the beginner guitar. Getting used to a guitar without spending too much money is often one of the most important aspects for new players, so there shouldn't be too much of a rush to start making big changes to the basic acoustic guitar. This guitar manages to stay in tune quite well so with that regard; this is a good first choice for any beginner.
If you are starting out with playing the instrument, it is inevitable there will be times when the strings are sore on your fingers but this is all part of the process. The fret-size and width of the neck should be comfortable for most players although children and adults with small hands may be advised to look for a scaled guitar.
With regards to playing the instrument, the lightness of the body means that even beginners should be able to get comfortable with the instrument in a short space of time. Sometimes there is a need to adjust your position or to play it standing up before you find a position that is comfortable but this should be an instrument that most musicians will be able to play comfortably.
Build / Reliability
Even though the guitar comes in at a low price, it is still a Fender and this means that people have expectations of the product. It won't take a great deal of abuse but it isn't a guitar that has been designed to withstand the pressure and stress of life on the road. The supplied gig bag isn't the sturdiest so up-grading this may be a sensible decision if the guitar will be carried around a lot but for what it is, it does the job.
In all likelihood, a beginner guitar will be played at home or with friends and will hopefully be looked after well. If the Fender Starcaster is looked after properly, it can give plenty of service and can help people to develop their guitar skills over a number of years.
Price / Value
There is a Fender Starcaster guitar kit available for around $119.00 which will provide everything you need to get started. Alongside the guitar itself, this pack contains a bag to carry the guitar in, a range of picks, a strap, strings, and a tuner. These are definitely the essentials for any new player with the tuner and strings coming in very handy! The standalone Fender Starcaster guitar retails for just under $100 so it is easy to see that the bundle provides great value but a lot depends on what the player actually needs.
The Verdict / Impression
When it comes to finding a beginner to intermediary guitar, there are a few things to look for. Value for money, the ability to stay in tune, light enough to be comfortable to play and a good enough tone are all key components in a good guitar. The Fender Starcaster provides all of these elements while bringing the Fender name to your home so if you are looking for a guitar to start playing, this is one of the best you will find on the market. The guitar kit versions available can provide you with everything you need to get started so that may be the better option but this is a guitar worth considering.
test
Summary
Reviewer
Review Date
Reviewed Item
Author Rating