Whether you have already grown out of the acoustic guitar and want to go electric, or your desire is to rock right from the start, the choice might not be that easy. Mainly, it's because the market is over flooded with quite affordable electric guitars, which come in all varieties, shapes, and sizes imaginable.
That's why we're here – to guide you through the unnecessary and lead to you to the best value electric guitars. Nowadays, rock-n-roll is much more affordable than ever. Check out this list of 5 best beginner electric guitars we bring you.
The Top Five Best Selling Beginner Electric Guitar Kits:
Bestseller No.

1
Full Size Blue Electric Guitar with Amp, Case and Accessories Pack Beginner Starter Package
Right-handed electric guitar with accessories is ideal for beginners and is ready to use out of the box
Made of an all wood construction, steel strings, and an attractive, smooth finish
This ultimate guitar starter kit includes a 10W amp, a guitar pick, a shoulder strap, and an extra set of replacement strings
Comes with a nylon carrying case perfect for traveling musicians and easy storage
Guitar Dimensions: 39.5"(L) x 10.5"(W) x 2"(H)
Bestseller No.

2
Squier by Fender Affinity Stratocaster Beginner Electric Guitar Pack with Fender FM 10G Amplifier, Clip-On Tuner, Cable, Strap, Picks, and gig bag - Brown Sunburst
Pack includes guitar, amp, tuner, instructional DVD, gig bag, cable, strap, and picks
Body Shape: Stratocaster
Neck Material: Maple
Fingerboard: Rosewood
Bridge: 6-Saddle Vintage-Style Synchronized Tremolo
Bestseller No.

3
Bestseller No.

4
Bestseller No.

5
Rise by Sawtooth ST-RISE-ST-LH-3/4-BLK-KIT-1 Electric Guitar Pack, Left Handed, Black
Basswood Body, Maple Neck
Maple Fretboard with Dot Inlays
24" Scale Length, Adjustable Bridge
Chrome Hardware
Kit Includes: Electric Guitar, Portable Beginner's Amp(Amp Power Adapter & Batteries Not Included with Purchase), Guitar Strap, Guitar Cable, Gig Bag, Pitch Pipe, 3 Pick Sampler & Online Lesson
Guitar Chords 247's top picks:
In this guide, we took 5 best electric guitars priced under $500 and accompanied them with a brief review – enough for you to decided which one is the best for you to buy.
1. Epiphone Les Paul Standard Guitar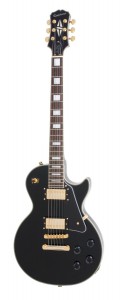 Kicking it off with an all-time classic, Epiphone Les Paul Standard. It's no secret that many guitarists wish to have the original Gibson Les Paul Standard but few can afford it.
Epiphone, however, brings a great deal of that famous Gibson performance while keeping it below the much-sensitive $500 price range.
There isn't much to be said about this guitar that wasn't been said before. It's all there – the classic shape, the heavy mahogany body with a maple top, the rosewood fretboard, the abalone inlays between the frets. An instrument that's built to rock.
The electronics are signature Les Paul Alnico dual humbuckers complete with two volume and two tone knobs. This guitar holds tuning really well so there's not much to complain about the hardware.
The greatest thing about Epiphone Les Paul Standard, though, is the sound. It's warm and deep with just enough punch to play almost any style of music – from blues to metal – with confidence.
Overall, it's probably one of the best beginner guitars ever. If the $400-tag doesn't scare you, it's a great deal.
VERDICT: 9/10
RR Price: Price: $419.00
2. Squier by Fender Vintage Modified '51

Now, this is a guitar worth of your attention. A unique combination of strat body and tele headstock, this guitar is bound to draw you some attention. And it's vintage, yeah!
In a nutshell, we have a basswood body, C-profile maple neck, and maple fretboard. In the electronics department, this Squier features a potent SH pickup configuration with rotary pickups selector and push-pull coil tap.
All this gives Squier model a great tonal versatility and easily recognizable Fender tone.
If you get this guitar, be prepared, however, to make some adjustments first (action, mainly) before playing as they don't come plug-and-play.
Anyway, for the price asked this Squier by Fender Vintage Modified '51 is unbeatable. A great value for a beginner.
VERDICT: 9/10
RR Price: Price: $200.90
3. Yamaha Pacifica Series PAC112V Electric Guitar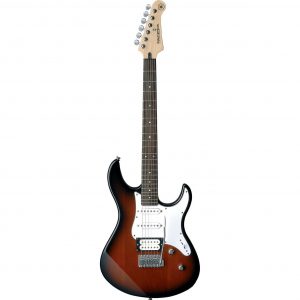 The electric guitars made by Yamaha are often overlooked by the guitar community as cheap and not capable of producing great sound. Let us assure you – they are wrong.
This Strat-type body guitar has the unbeatable price/features ratio. For a very moderate price, you get a guitar that looks, feels, and sounds like Fender Stratocaster.
Pacifica series guitars feature alder body, maple bolt-on neck, and rosewood fretboard. Everything is put together nicely and solidly.
Electronics configuration is what makes Yamaha Pacifica different from a typical Strat. Here, you have two single coils and a humbucker. This particularly suitable if you prefer heavier styles of music rather than blues or funk.
The sound is bright and crispy, albeit with a little bit more bass punch than on Strats. Paired up with the right amp, this guitar can get you a lot of satisfaction=)
The downside is that the build quality and finish are somewhat mediocre and far from you'd expect from Epiphone or the Mexican-made Stratocaster. Other than that, it's great axe that you will thank many times for introducing you to the rock-n-roll.
VERDICT: 8/10
RR Price: Price: $299.00
4. Ibanez RG450DX RG Series Electric Guitar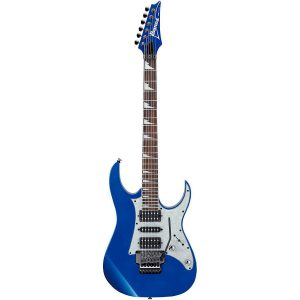 Another guitar by a Japanese manufacturer on the list, Ibanez RG Series, model RG450DX. Ibanez have a habit of giving their guitars long, difficult-to-remember model names but this one you need to take a note of.
This guitar may seem pretty generic at first (mahogany body, maple neck, rosewood fretboard, Super Strat shape) – but the magic comes when you take it in your hands and start playing.
For a guitar of this price, RG450DX packs way too much power in terms of tone and attack. Although many dismiss it as a «metal axe», this guitar is actually quite versatile. Perhaps, not the first-choice guitar for jazz, this guitar handles most styles of music pretty well. The tone is warm and punchy with great depth and resonance.
The pickup configuration is HSS, where the middle pickup is alnico while the remaining two are ceramic – hence, the versatility.
There might be a problem, however, related to the difference in the volume output between the middle pickup (which is quieter) and the neck and bridge pickups. Not a big deal but, still, spoils the great overall impression.
VERDICT: 7/10
RR Price: Price: $399.99
5. Jackson JS32T Kelly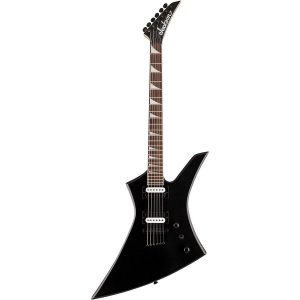 Yeah, this one was made for heavy music. Jackson have a long tradition of making great (and affordable) metal axes, and this guitar is no exception.
JS32T Kelly model features a rather unusual Indian Cedro as a material for the body and maple/rosewood for the neck/fretboard. The result is a characteristically aggressive and punchy tone that's often seemed for by the heavy music aficionados.
Although the radical «Kelly» shape makes this guitar not entirely for the mass public, those of you who prefer to play it loud will definitely enjoy this axe.
VERDICT: 7/10
RR Price: Price: $269.99
Conclusion
There are plenty of other great guitars for beginners under $500, and we, obviously, can't review them all here. But these five would surely please any aspiring guitar player, no matter what his/her musical background and skill level are.