The 5 Best Beginner Acoustic Guitars 2017
We've all been beginners in one way or another. Whenever you're starting something, it's always difficult to make the right choices simply because you don't have enough knowledge and criteria to make a rational decision on the purchase.
A lot of times we have to rely on the recommendations and advice from our friends, colleagues, music store clerks, and – hey! – the Internet. But how do you know you can trust us?
Well, we've been playing and reviewing guitars for many years. We've seen a fair share of great, mediocre, and absolutely horrible guitars so we can tell which is which. Finally, we do realize the needs and goals of a beginner as they're different from intermediate or advanced players.
So, you can pretty much rely on our advice. Don't take it for granted, though, as your final decision should be made by you and none other. With guitars, it's like a relationship where emotions matter just as much as rational thinking if not more.
Our Selection of the 5 Best Beginner Acoustic Guitars:
"Beginner" doesn't have to mean "lousy" or "cheap". Check out these five great beginner guitars whose qualities expand far beyond their price or status.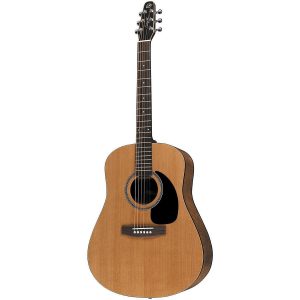 The one and only Seagull S6. Possibly, the best value on the market. What's so good about this baby?
First, it's stripped down from anything that's unnecessary for a beginner – such as electronics, fancy body shape (S6 is a classic dreadnought guitar), or materials. Yet, it features premium tonewoods – solid cedar top, cherry back and sides, and a rosewood fretboard.
Second, the semi-gloss finish that makes this guitar look just awesome.
The last but not least, the sound – Seagull S6 sounds warm and bright enough for you to love it. This tone fits most songs beginners are likely to start with so that brings an element of versatility to the table.
One downside is the price which could have a bit lower – almost $400 for your first guitar may not seem like a bargain at first but once you play this guitar, it all comes clear.
VERDICT: 9/10
RR Price: $389.00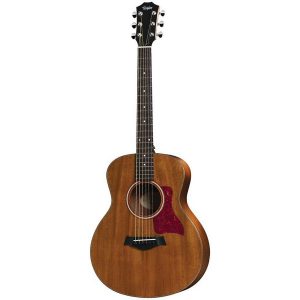 Taylor GS Mini features a different body type than Seagull S6. Instead of classic dreadnought shape, it has a Grand Symphony body. What difference does it make?
First, the size – it's, basically, a smaller-size, travel guitar, which you can take anywhere with you (especially if you have small hands). Second, it's the sound – the trebles are more accentuated compared to other models. Taylor GS Mini features a better ringing sound than some of its counterparts on this list.
The wood choice may seem somewhat unusual for some but it's Taylor – a company known for little compromises to the quality. Here we have a solid mahogany top and laminate Sapele back and sides. The fretboard is made of genuine African ebony, which adds a lot to the sound.
With the matte finish, this guitar doesn't shine as much as Seagull or Blueridge models do but it looks fantastic nevertheless.
The downside is that the guitar may not always stay in tune that well on the higher frets so you might want to check on that before buying in a physical store.
VERDICT: 7/10
RR Price: $499.00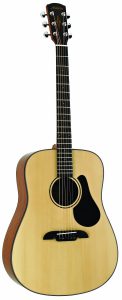 This is one powerful resonance monster of a guitar. Who would've expected so much resonance from such a humble instrument? This is all due to the Solid Sitka spruce top (that is, not laminated), mahogany back and sides, and great build quality in general.
AD30 is considered to be an «entry model» in the renowned Alvarez Artist Series but it still retains all the fine qualities of its bigger brothers. The traditional dreadnought shape, the well-balanced sound where all registers are present (from bass to treble), the natural finish – this guitar is a true classic.
The price is great too – for a little more than $200 you get a nice-sounding and good-looking beginner guitar. One possible downside is that it's a Chinese-made guitar so you may expect some minor flaws in manufacturing.
Other than that, it's a great way to start if you're limited on budget.
VERDICT: 7/10
Price: $249.95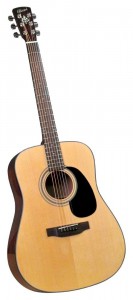 Bristol BD-16 is pure magic. This guitar ought to cost more (I hope you guys from Blueridge aren't reading this) because of the unmatched craftsmanship and sound for that price.
Featuring a laminated Spruce top with mahogany back and sides, this guitar sounds bright and clear, with a full range sound coming from under your fingers. The slim neck provides fast and easy action while the rosewood fretboard ensures real smooth playability.
The hardware is pretty much what you'd be expecting from the guitars of this price range – an artificial nut and saddle complete with 6 standard die cast tuning pegs. As long as you're not bending your strings too much, you should stay in tune quite alright.
This guitar is equally great for picking and strumming.
VERDICT: 8/10
Price: $195.00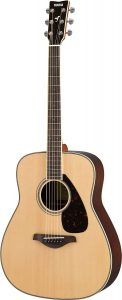 The Yamaha FG series is one of the longest-standing and most popular acoustic guitar series ever. Mediocre guitars do not get that kind of recognition.
With FG830, we have a solid-sounding guitar that's built to last. The body and neck materials are almost identical to those of Bristol BD-16 save for the top. On FG830, it's solid – not laminated (hence, the price).
The shape is traditional dreadnought. Combined with the quality materials and unique bracing pattern used by Yamaha, this guitar produces very rich sound with quite a bit of overtone. The sustain could have been better but, hey, this is an entry-level guitar we're talking.
Overall, FG830 doesn't break any ground – yet, it's an amazing instrument for the price asked.
VERDICT: 7/10
Price: $299.00
Conclusion
That's it for now – we've reviewed 5 best beginner acoustic guitars in the $500 price range. Remember one thing: before finally settling on a guitar for yourself, find a way to see and try it in action. Once you've seen it and enjoyed holding it and playing it, you know it's your instrument.